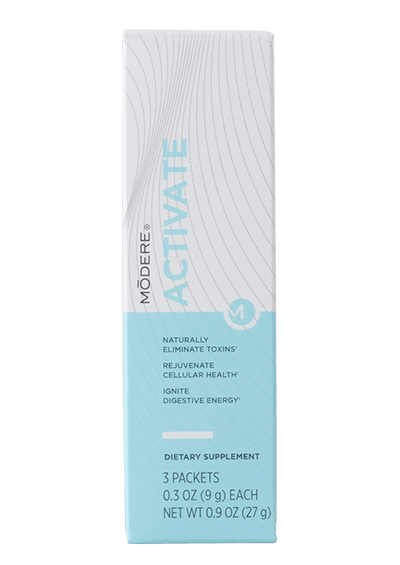 Have you hit a wall on your path towards becoming healthier? Sometimes, our bodies need a jump start to get us back on the way towards our fitness goals. Modere Activate, a 3-day cleansing supplement, is here to support your overall physical health and to reinvigorate your passion for personal health and wellness.
Like its name, Modere Activate activates your body and digestive system to launch you towards your fitness goals. Activate works with your ongoing wellness plan by adding a monthly gentle cleansing routine. Receive all the benefits of a cleanse without fasting by using Modere Activate!
Modere is a health and wellness company dedicated to using the most advanced science to develop nutritional formulas that are both reliable and effective. Once again, the company has hit the ball out of the park with a functional and powerful product: Activate.
What is Modere Activate?
Modere Activate works with your regular diet and exercise plan to jump-start your metabolism every month through a digestive cleanse. Activate works with your body to remove and reduce toxins and can ultimately speed weight loss efforts.
While Activate is a stand-alone product, it works best with the complete Lean Body System by Modere, which is a multi-step process to help you with your health and wellness goals. During the 72 hours of using Activate, your body will begin to feel lean and strong.
Modere Activate focuses specifically on:
Clearing the body of impurities
Boosting metabolic rates
Increasing energy levels
Modere Activate Ingredients
With all-natural, sugar-free, and vegan-friendly ingredients, Modere Activate works to alleviate inflammation in the digestive tract due to toxins and impurities.
Below we will take a look at a few of the beneficial ingredients in Modere Activate.
Aloe Vera
Aloe vera is a crucial ingredient in Activate; research has proven that nonvolatile constituents of the leaf gel properties soothe the gastrointestinal tract, aiding in different illnesses such as constipation, gastrointestinal disorders, and immune system deficiencies.
Aloe vera is known globally as a trusted traditional remedy for indigestion. With natural enzymes that break down sugars and complex fats, aloe vera balances the digestive system.
Ginger Root Extract
Often, committing to a cleanse is associated with discomfort, but Modere Activate includes ginger root extract as an ingredient to combat nausea or inflammation.
Ginger contains phenolic compounds, such as gingerol, that contribute to its many health benefits. Studies show that gingerol aids in soothing upset stomachs and is specifically effective in tackling other symptoms like appetite loss, nausea, high blood sugar, gastrointestinal inflammation, and obesity.
Dandelion Leaf & Root Extracts
Dandelion Extracts can help support normal digestion amongst several other health benefits. Dandelion extract contains the prebiotic fiber inulin which is proven to reduce constipation and increase intestinal movement. Aside from this, it also shows promise in speeding up the metabolism and fighting inflammation making it a highly effective ingredient in Modere Activate.
Milk Thistle Seed Extract
The extract of Milk Thistle contains between 65-80% of plant compounds called silymarin. Silymarin is proven to have anti-inflammatory, anti-viral, and antioxidant properties.
Milk Thistle extract is well known for its liver-protecting benefits. Milk Thistle Extract studies show that milk thistle has improved liver function in those with liver disease. This powerful extract may reduce liver damage that is caused by free radicals produced when your liver metabolizes toxic substances. This adds an extra protective layer to Modere Activate and promotes healthy liver functions.
Other Ingredients
Modere Activate also contains a few other notable ingredients such as apple pectin for system regulation and psyllium seed husk for added fiber.
What are People Saying about Modere Activate?
Modere Activate seems to have struck a few lifetime fans with its multitude of health benefits.
Testimonials show that users enjoy the product and its effects.
One USA user states, "I religiously take this every month. I absolutely love love love activate! AMAZING," while another says, "Tastes horrible but does the trick."
If you can get past the taste, reviewers show that this product is highly effective.
What Are the Benefits of Using Activate?
Using Activate for your cleanse makes finishing this wellness task easier. Knowing that a product is available that will help you stick to and achieve your goals is invaluable. Modere Activate complements a weight loss regimen. Lasting only three days, the Activate cleanse eliminates body toxins, spurs energy production, and rejuvenates health.
Using a product that helps track cleanse timing helps ensure regularity. Knowing that every month, Activate will help you move through a cleanse can provide lasting health benefits. This product is easy to incorporate into a busy schedule since it is packaged in single-serve portions easily portable to work, class, or other events.
FAQ: What to Expect After Using Modere Activate!
Here are some commonly asked questions.
How do I take Modere Activate?
To begin using this product, one mixes a packet of Activate powder with water. For the best results, drink the blended power as quickly as possible. While a person can drink Activate anytime during the day, many users have found that drinking the blend is best at bedtime.
How does Modere Activate taste?
Modere Activate has a refreshing taste, mainly that of citrus and ginger. For Activate to be as successful as possible, users should stay as hydrated as possible! Drinking at least eight eight-ounce glasses of water for all of the days on Activate is key to progress.
What can I expect after completing the Modere Activate regimen?
At the end of your three-day regimen of Modere Activate, the benefits of the cleanse should be apparent. Visually, stomach bloating will be reduced, and mentally, the benefits of excess energy will translate to all aspects of life.
To maintain wellness and to meet your healthier goals, using Modere Activate monthly is essential, but also exploring other Modere products for holistic health, weight loss, and stamina can support anyone's lifestyle goals.
What's more, the Activate system is in no way restrictive, which translates to long-term usage and success. Practicing a monthly cleansing is not a weight-loss shortcut; instead, adding the use of Activate to an existing exercise routine and specific diet can increase the speed of progress toward your physical health goals.
Win-Win-Win
Adding Modere Activate to your established wellness plan benefits your physical and mental health. Activate uses its scientifically proven ingredients to help your body by supporting the digestive system and boosting energy levels.
This monthly supplement is a win-win-win for achieving weight loss goals, improving gastrointestinal health, and living your healthiest life.