Modere Activate Review: Combat Weight Gain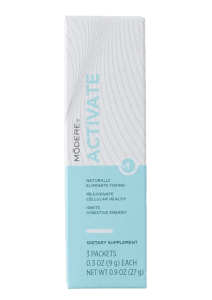 Staying at home is not an excuse to abandon your diet and exercise plan. While reaching out for that oh-so-accessible tub of ice cream while binge-watching that show everyone is talking about may seem the only way to keep your sanity intact, experts still strongly recommend observing certain measures to prevent excessive weight gain. If you were a gym rat and are now at a loss about how to proceed with your regular fat-loss goals, don't fret. You can still keep working on that sexy body by using products like Modere Activate — a natural 3-day detox solution to encourage your fat-loss regimen. 
A Closer Look at Modere Activate
Modere Activate is an organic monthly 3-day detox solution designed to cleanse your gastrointestinal tract. Made from organically grown aloe vera, this natural cleanser, combined with ingredients including apple pectin and psyllium seeds, should ignite your digestive energy, rejuvenate the cellular system, clear away body toxins, and encourage your fat-loss efforts.
5 Key Ingredients in Modere Activate
Apple pectin is a soluble fiber meant to aid weight loss by delaying stomach emptying. Thus, it keeps you feeling full, resulting in reduced food intake and eventual weight loss. It aids in decreasing blood sugar and blood pressure levels and cholesterol. It also promises enhanced iron absorption and normal stool. 
The American Journal of Clinical Nutrition reported that psyllium husks have highly soluble fibers effective in lowering total and LDL ("bad") cholesterol levels. It also aids in easy bowel movement, reducing flatulence and bloating in the process. Psyllium soaks up water in the digestive tract, making stool firmer yet soft, resulting in reduced pain associated with hemorrhoids. 
Although psyllium doesn't usually ferment, some psyllium fibers can be fermented by intestinal bacteria, producing short-chain fatty acids that are extremely beneficial to the body.
Referred to as the 'Miracle Plant,' aloe vera is a succulent plant known for its medicinal properties. Dating back to 4500 BC, Rig Veda's ancient book of natural medicines, says aloe vera beautifies.
Though it is commonly used to heal burns and improve skin health, the use of aloe vera has evolved.  It became a key ingredient in juices, herbal supplements, and diet drinks geared toward weight loss. It has over 75 active components, including 20 amino acids and 8 essential amino acids, essential vitamins, minerals, polysaccharides, Salicylic Acid, Saponins, and Sterols. These components provide analgesic and anti-inflammatory benefits. It also maintains cholesterol level, stabilizes metabolic rate, and cuts down lipid levels. Beneficial for ulcer, amenorrhea, jaundice, it can treat gastrointestinal disorders. It is also good for stabilizing alkaline acid in the body while acting as a laxative. 
Ginger has zingiber, a powerful active ingredient. It is well known to eliminate bacterial pathogens that compromise the digestive function. Ginger can reduce nausea in pregnancy, says a study published in Obstetrics & Gynecology. Lemon, on the other hand, reduces indigestion and heartburn.
A combination of lemon and ginger can boost the immune system. It can reduce fever, improve cognition, regulate blood sugar, aid in digestion, soothe pain, and promote healthy hair and skin. A study in the Journal Food Chemistry says ginger is rich in antioxidants. Lemon and ginger work as a bio-hacking tonic to body healing and recovery. 
The roots and leaves of the dandelion are both excellent sources of vitamins A, B, C and D,  potassium, iron, calcium, magnesium, and zinc. Dandelion also contains a cancer-preventing antioxidant called luteolin. The root is rich in inulin, a carbohydrate that supports the bacterial flora in the intestine. Both dandelion parts cleanse and purify all body systems, and are quite beneficial to the gallbladder, liver, and kidney.
Popularly used in making tonic tea, dandelion leaves and roots are typically dried. However, dandelion root can be used fresh. In England, they make wines from dandelion roots.
5 Benefits of Using Modere Activate
A healthy lifestyle is more than just a sexy body. It is a common misconception that a sexy body means a healthy one. According to a recent study published in the Archives of Internal Medicine, only 3% of adults meet the four criteria for a healthy lifestyle.
We have listed it here for you to review and see how well you measure up on the researchers' keys to a healthy lifestyle:
Are you a smoker?

Are you able to maintain a healthy weight (a BMI of 18-25), or are you successfully losing weight to attain a healthy weight?

Are you eating at least 5 servings of fruits and vegetables daily?

Are you exercising 30 minutes or more, 5 times a week?
If you did not meet all four criteria, do not worry, you are among the 97% who did not. The good news is it is not too late to get on these habits. You can start now, and start with Modere Activate, which promises the following benefits:
Eliminates body toxins

Rejuvenates cellular system's health

Improves digestion

Complements a fat-loss regimen

Energizes the body
How to Take Modere Activate
If you are a beginner to detoxification, it just means following a specific diet or using special products like Modere Activate to rid your body of toxins, improve health, and lose weight. 
To take it, take one packet and stir it into 8 ounces of water. If the mixture thickens, you can add more water and stir again. The recommended use is once a day for 3 consecutive days per month, preferably at bedtime.
Getting Your Hands on Modere Activate
Modere Activate is available on the online shop at the Wellness Essence – a one-stop-shop for clean label essentials your family needs.  Visit the website now and take advantage of the limited time discount available under the SmartShip & Save Price!
To increase your profit as a Modere independent distributor or social marketer, you should always aim to give the best products that Modere can offer to  your customers. Best-selling Modere supplements that you should deliver to your potential customers....
read more
Discover the beauty serum that can help you in achieving beauty from the inside and slowing the effects of skin aging. Here's why you should include Modere CellProof Serum in your skincare routine. What is Modere CellProof Serum? Modere CellProof Serum is...
read more
WELLNESS ESSENCE
Independent Distributor