Modere Energy Shot Review: Support Your Active Lifestyle
Experience the all-natural energy boost with Modere Energy Shot. This nutritiously delicious energy supplement can provide a burst of energy to support your active lifestyle every day without the adverse effects that usually come with traditional energy drinks.
Let's find out the limitless benefits that Modere Energy Shot offers and the ingredients that make it a super active energy booster.
Introducing Modere Energy Shot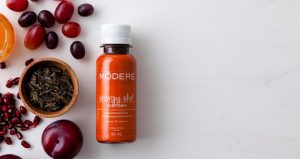 Modere Energy Shot is a dietary supplement that boosts the energy levels without the sudden crash that most energy drinks cause after the energy-boosting effect fades out.
This product offers clean and organic energy from natural fruit juice blends that not only boost the energy levels but also provide a bunch of health benefits.
Benefits of Modere Energy Shot
Modere Energy Shot provides a long-lasting and clean burst of energy with the power of natural caffeine from green tea leaf extract to support your active lifestyle. Modere Energy Shot is much better than other energy supplements in the market, as the energy boost it provides does not transform into crashing after doing physical activities.
Improves mental awareness
Modere Energy Shot is also perfect for those who boost their productivity and creativity while studying or working. This product enhances the cognitive functions with the power of natural caffeine from green tea leaf extract.
Boosts the thermogenic process
Modere Energy Shot supports the body's thermogenic process by boosting the metabolism. As a result, the body will burn more calories to accelerate the weight loss process.
Provides antioxidant protection
Modere Energy Shot is not only limited in boosting the energy levels, as it also provides additional antioxidant protection that can slow the effects of aging. Antioxidants are known to fight free radicals that damage the cells with oxidative stress.
Key ingredients of Modere Energy Shot
It is a superfood that protects cellular health, fights cancer cells, supports cognitive functions, and improves physical performance.
Natural fruit juice blend
This blend contains nutritious juices from pear, apple, red grape, white grape, plum, purple grape, apricot, blueberry, kiwi, and pomegranate. It is filled with antioxidants, essential nutrients, and minerals that can support the overall health and slow the effects of aging.
This type of tea can regulate cholesterol levels, lower the risk of heart diseases and stroke, prevent the growth of cancer cells, and improve cognitive functions.
This ingredient can reduce fatigue, support cognitive functions, accelerate weight loss, relieve pain, and improve physical appearance.
What do people say about Modere Energy Shot?
Let's take a look at some testimonials from the people who already experienced the clean burst of energy and extraordinary health benefits from Modere Energy Shot.
"Absolutely love the clarity it gives. You don't get a jittery feeling, just a 'ready to conquer the day' feeling."
"I can't believe how great this works. I have energy throughout the day and then sleep like a baby at night."
Support your active lifestyle and improve your overall health with Modere Energy Shot, which you can avail only on Modere Website.
You can also include Modere Rush, and Modere Mineral Supplement to unleash the healthiest version of you.
To increase your profit as a Modere independent distributor or social marketer, you should always aim to give the best products that Modere can offer to  your customers. Best-selling Modere supplements that you should deliver to your potential customers....
read more
Discover the beauty serum that can help you in achieving beauty from the inside and slowing the effects of skin aging. Here's why you should include Modere CellProof Serum in your skincare routine. What is Modere CellProof Serum? Modere CellProof Serum is...
read more
WELLNESS ESSENCE
Independent Distributor