Modere Eye Health Review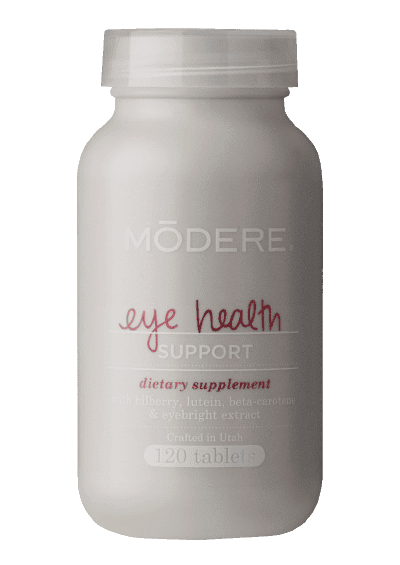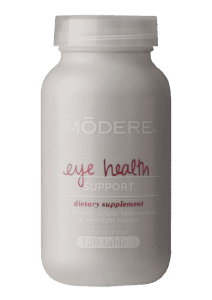 Take care of your eyes by popping two capsules of Modere Eye Health per day. With its careful blend of vitamins and extracts, this food supplement will help you protect your eyes from fatigue, digital blue lights, and other harmful elements.
What is Modere Eye Health?
Modere Eye Health is a nutritional supplement made specially to help you keep a healthy pair of eyes as well as maintain optimal vision. Uniquely formulated with organic ingredients and vitamins, it will also protect your eyes from a slew of problems, including eye fatigue, age-related vision changes, and external stressors, among others.
Modere Eye Health Benefits
Abundant Multiple Vitamins
Modere Eye Health comes loaded with vitamins A, C, and E that can provide you with sufficient essential antioxidants to ensure eye health.
The supplement's ingredients help you fight off the free radicals that could damage your eyes, resulting in boosted macular health and healthy vision.
The product helps guard your eyes against age-related vision changes as well, allowing you to enjoy perfect sight well into your advanced years.
Ample Blue Light Protection
Modere Eye Health provides beneficial carotenoids like lutein and zeaxanthin to protect your eyes after prolonged exposure to digital blue light.
Modere Eye Health Key Ingredients
Acts as a source of vitamins and minerals, as well as helps you reduce the risk of having any age-related eye problems
Improves overall vision, protects your eyes' corneas, and even enhances your immune system functions
Keeps the blood vessels around your eyes healthy, lowers your risk of developing cataracts, and slows down the progression of visual acuity loss or age-related macular degeneration (AMD)
Protects your eye tissues from free radicals, reduces the likelihood of AMD even further, and provides your eyes with much-needed antioxidants
Northern European Bilberries
Contains anthocyanins to deliver extra antioxidant defenses and other health results, and nourishes your eyes with bioflavonoids to ensure healthy vision
Supplies you with lutein to remedy or prevent age-related macular problems and to protect your eyes from the blue light that comes from device screens
Modere Eye Health Customer Testimonials
Modere Eye Health is well-received by clients all over the world, with even some praising it as one of the best Modere products available. Check out some of their reviews below.
"Modere Eye Health capsules aren't just a great help if you want to enjoy a clearer vision. It's also suitable for people like me who suffer from awful dry eyes. Within months (if not sooner), you'll definitely be able to see the results."
"At 73 years old, I had a hard time seeing properly during the night. But after I started taking Modere Eye Health capsules, I experienced a lot of improvement. Today, my vision's just a few notches off 20/20. That's even better eyesight than what my grandkids have!"
"I used to suffer from severe dry eyes and vision blurring. After a month with Modere Eye Health, though, I experienced a better vision and fewer eye problems. Clearly, this product helped me take the blinders off!"
Start Taking Modere Eye Health Today!
Modere Eye Health will bring you loads of vision-related benefits, allowing you to enjoy better eye health as well as look forward to a brighter future. So better buy a bottle now while supplies last.
To find out more about Modere Eye Health and other Modere products and reviews, visit Modere.com.
It is tiring to live with dry skin. It makes your face look bland, sticky, and unhealthy, and generally, dry skin can lead to small diseases like the flu and such because of how weak the skin cells are. Mere baths and moisturizers are not enough. You need something...
read more
Modere Carb Blocker is a great supplement to have if you want to regulate the presence of carbohydrates in your system. But even if you're relying on it to delay the digestion and absorption of carbs, that doesn't excuse you from doing your own part. For starters, you...
read more