Modere GO Review: Your Energy and Mind Booster On-The-Go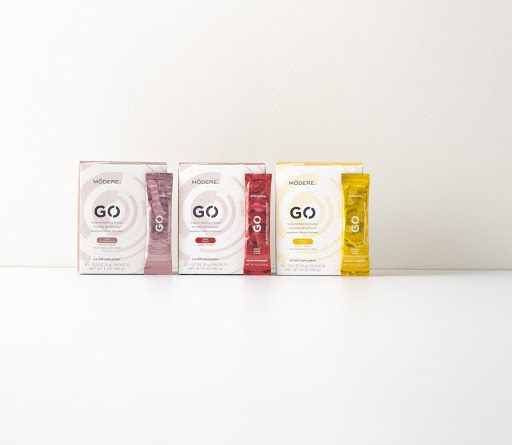 Life is not easy, and sometimes you will need a little rush to push through a busy day no matter what you're up against. 
While other energy supplements can provide a short-lived amount of energy boost, there is nothing better than the energy boost that this Modere product can provide.
Introducing Modere GO
Modere GO is not your typical energy supplement. This product uses a comprehensive, "biohacking" approach in boosting your energy and brain health with the power of natural caffeine from green tea and powerful ingredients, including 8 brain-boosting nootropics
Modere GO can provide a clean energy boost, improve alertness and focus, support cognitive functions, and enhance mood, which can help you to be at your best every day.
This product is available in three deliciously healthy flavors: Modere GO Fruit Punch, Modere GO Orange Citrus, and Modere GO Acai Pomegranate.
What are the benefits of Modere GO?
Fires up your energy levels
Whether you are on a high-intensity workout or just another day on your job, you need an adequate amount of energy to get your work done.
Modere GO is the perfect energy-boosting companion that you need, as it makes you feel recharged and energized to sustain your activities. 
Sharpens your cognitive functions
Are you struggling with memory loss, poor focus, and stress? Worry no more with every sip of Modere GO. This product contains ingredients that boost cognitive functions such as ginkgo biloba.
Improves fat-burning potential
Modere GO is also a great workout companion, as it can accelerate your weight loss process by increasing your metabolism.
What are the key ingredients of Modere GO?
It is a natural choline compound that is known to increase dopamine levels, improve memory information, enhance learning capability, and support brain functions.
It is a quaternary ammonium compound that plays a critical role in energy production.
Promotes natural relaxation without sedative effects and enhances cognitive functions when combined with natural caffeine.
This ingredient improves cognitive function by promoting healthy blood circulation in the brain and protecting the brain and other parts from neuronal damage.
It is known for its ability to improve memory, reduce anxiety attacks, alleviate stress, and boost brain function.
What do people say about Modere GO?
Let's take a look at some reviews from the people who already tried and experienced the wonderful effects of Modere GO.
"When I first used Modere GO, I immediately felt the difference. I felt more energetic and my mental awareness got better."
"I always use this product before workout, as I noticed that I can do more reps when I use Modere GO."
"I replaced coffee with Modere GO, and it was one of the best decisions I made. I'm so lucky to discover this product."
Boost your energy and sharpen your mind today. Order Modere GO Fruit Punch, Modere GO Orange Citrus, and Modere GO Acai Pomegranate on Modere.
In achieving your fitness goals, it is essential to have a nutritional supplement that can support your active lifestyle. There are a lot of products in the market that can help a little when it comes to supporting active lifestyle, but there here are the...
read more
Experience a new way of healthy weight management with the Modere Logiq™ + Trim Collection, an extraordinary health plan designed for the people with active lifestyles. Here are the products inside Modere Logiq™ + Trim Collection that you surely never...
read more
WELLNESS ESSENCE
Independent Distributor