Modere Lean Body System: The Powerful Weight Management System
Have you joined the home workout bandwagon yet? I have, and the truth is, it is not a walk in the park. How come these fitness influencers can easily slide into a rocking bod with their 30-minute workout routines while here I am- sweating for 2 hours, 5-6 times per week-  hardly seeing any major improvements?
This really wound me up so I asked for advice from my friends who are into fitness more seriously than I am and they said I need to focus on my nutrition. In fact, they told me that weight loss is 75% diet and 25% exercise. That was a jaw-dropping revelation to me because I am crazy about food and I thought that as long as I exercise, I can indulge in any kind of treat for the tummy. This news really discouraged me until one of my friends recommended an effective body-sculpting "system" as he calls it. It's called the Modere Lean Body System, and it brought me some ray of hope.
This revolutionary system is one of the highest-rated among the Modere Collection.
The Lean Body System Collection is an exclusive set of products that is scientifically-designed to help you burn fat, lose inches, and promote lean body composition. This system may be the key to achieve the toned abs of your dreams. 
The Lean Body System Collection is such a massive breakthrough that it has been awarded by the Supply Side West CPG Editor's Choice Award as the Best Weight Management Product in 2018. Here's why:
The Modere Lean Body System Collections: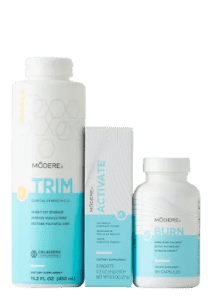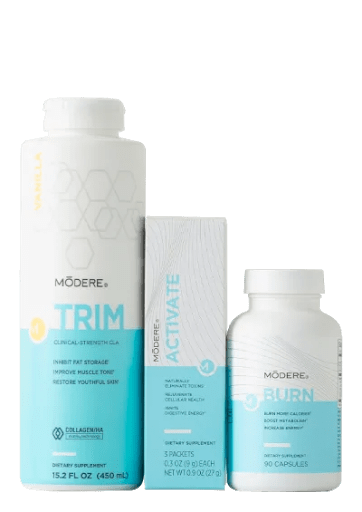 This collection is all you need to orient yourself with the Lean Body System and its benefits. This collection introduces you to the three pioneering products- each taking different roles to address the needs of the body to stay fit and lean.
Trim – It features an innovative, first-in-the-world combination of two leading technologies to accelerate fat reduction, improve muscle tone and restore youthful skin for a sculpted, lean body
Available in chocolate, coconut lime, lemon, and vanilla flavors
Burn –

It is a science-backed thermogenic formula featuring a powerful blend of 3 fat-burning ingredients. The coastal seaweed extract fucoxanthin is combined with plant-derived berberine and the essential trace mineral chromium to activate your metabolism, reduce cravings, and shift your body into fat-burning mode.
Activate –

It is a monthly 3-day detox formulated with organically grown aloe vera to naturally eliminate toxins, plus apple pectin and psyllium seed husk for added fiber. This formula helps power up the digestive energy, making it the perfect supplement to pair with a fat loss regimen.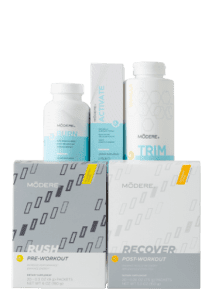 This collection is the upgraded version of the Lean Body System Basic with two additional products (Modere Rush and Recover) that will take your fitness journey to the next level. It optimizes your workout performance and reduces soreness so you can get fit faster, allowing you to work smarter, not harder.
Modere Rush –

This product is your pre-workout weapon that provides clean energy so you will not only feel invigorated, but in the zone and ready to work out. It also features cutting-edge ingredients like calcium HMB, beetroot juice, beta-alanine, and creatine citrate to bolster your athletic performance and help you gain strength more quickly. 
Modere Recover –

This is the post-workout weapon that you need after an intense session. It contains a scientifically formulated blend of minerals and phytonutrients including astaxanthin, l-glutamine, sour cherry, Indian frankincense, coconut water and essential electrolytes, so you can stay hydrated, fight muscle cramping and feel ready for the rest of your day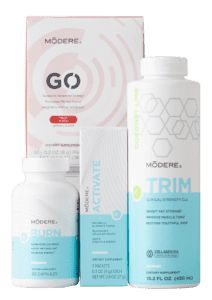 This set includes the three class-leading products of the Lean Body System but with a powerful addition that targets our cognitive health. 
Modere GO –

While the Lean Body System aims

to reduce fat, burn more calories, and help you transform your body, GO targets your cognitive health with clean energy and 24 brain-boosting ingredients. It takes a holistic approach to brain health to improve alertness, support memory and enhance focus so you can perform your best. 
Available in Acai Pomegranate, Fruit Punch, and Orange Citrus flavors
It is hard to say no to the groundbreaking products that make up the Modere Collection. Its benefits can take you one step closer to a healthier and fitter body, and a plus that it comes in a variety of flavors – truly making it accessible to everyone. Take a chance now and see how healthier and more fit you can get without having to break too much sweat!
Head to Modere Website now to discover your body's full potential!
It is tiring to live with dry skin. It makes your face look bland, sticky, and unhealthy, and generally, dry skin can lead to small diseases like the flu and such because of how weak the skin cells are. Mere baths and moisturizers are not enough. You need something...
read more
Modere Carb Blocker is a great supplement to have if you want to regulate the presence of carbohydrates in your system. But even if you're relying on it to delay the digestion and absorption of carbs, that doesn't excuse you from doing your own part. For starters, you...
read more