Modere Liquid BioCell Equine Review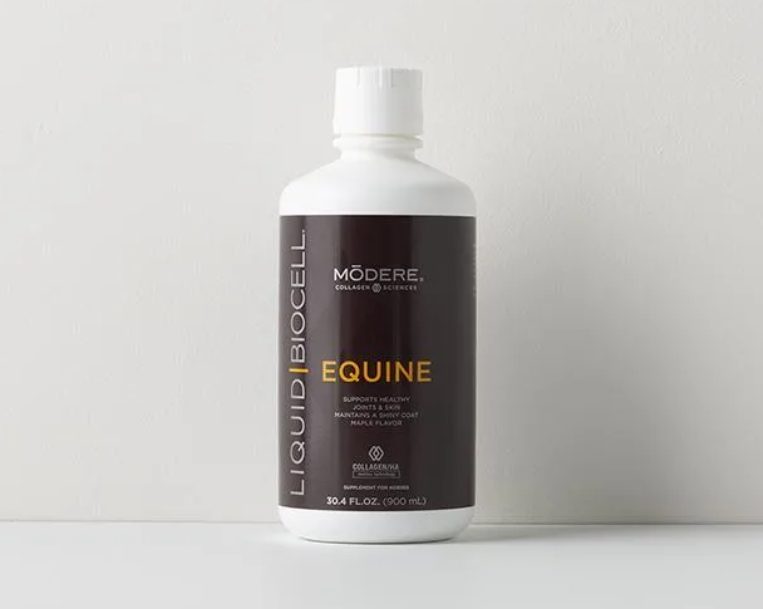 Is your horse experiencing joint pains? Have they recently been performing poorly during exercises? Fret no more, for Modere Liquid BioCell Equine is here to save the day! With this product on hand, you'll help your horse get back on track.
What is Modere Liquid BioCell Equine?
Modere Liquid BioCell Equine is a nutraceutical product developed to provide good joint support for horses. Formulated with Collagen/HA Matrix® Technology and Modere's advanced liquid delivery system, it can help you maintain your beloved horse's mobility, improve their joint functions, and boost their performance during exercise.
Key Benefits
Improved Joint Mobility and Lubrication
Modere Liquid BioCell Equine will support your horse's joints, enabling him or her to enjoy better mobility and flexibility.
Increased Physical Performance
The supplement will nourish and strengthen your horse, allowing them to perform better during exercise and other physical activities.
It will bring out the sheen of your horse's mane and coat, enabling them to look shiny and well-groomed.
Patent-Protected Supplement
It will give you a product that enjoys the protection and privileges of US and international patents.
Great-Tasting Maple Flavor
Modere Liquid BioCell Equine will give your horse a maple-tasting treat that he or she will surely enjoy anytime and anywhere.
Notable Ingredients
Develops your horse's physique, helps them gain weight, and boosts their energy levels.
Provides your horse with "gut fill" to keep them full and healthy, as well as absorbs and holds water in the gut to serve as a water reserve.
Hydrolyzed Chicken Collagen
Treats your horse's joint pains while simultaneously reducing inflammation and preventing bone loss, and improves the quality of their skin, mane, and coat. 
Regulates your horse's insulin levels, offers a natural alternative to sugar and other sweeteners, and makes Modere Liquid BioCell Equine taste better.
Boosts performance during exercise, sports, and other physical activities, improves your horse's ability to process and absorb creatine, and increases their energy levels.
Serves as Liquid BioCell Equine's main preservative. 
Testimonials About Modere Liquid BioCell Equine
Loaded with powerful ingredients and incredible benefits, it shouldn't be a surprise that Modere Liquid BioCell Equine is met with applause and positive reviews from customers worldwide. Check out some of the things they said about the product below.
"I made my horse take Modere Liquid BioCell Equine for a month, and he's enjoyed better joint health ever since. Not only can he gallop faster nowadays, but his coat looks and feels more lustrous, too! What an amazing supplement!"
"Liquid BioCell Equine is a terrific product to get for a horse. It can make their joints feel better. It can make them perform better during physical activities. It can even make their coat look softer and shinier. If you own a horse, then you should check this out!
Get Modere Liquid BioCell Equine Now!
Help your horse enjoy healthier joints by gifting them a bottle of Modere Liquid BioCell Equine. With this amazing supplement at your fingertips, you'll make sure your beloved stallion has the joints to gallop wild, free, and happy.
Visit Modere.com if you want to buy Modere products or learn more about Liquid BioCell Equine.
It is tiring to live with dry skin. It makes your face look bland, sticky, and unhealthy, and generally, dry skin can lead to small diseases like the flu and such because of how weak the skin cells are. Mere baths and moisturizers are not enough. You need something...
read more
Modere Carb Blocker is a great supplement to have if you want to regulate the presence of carbohydrates in your system. But even if you're relying on it to delay the digestion and absorption of carbs, that doesn't excuse you from doing your own part. For starters, you...
read more
WELLNESS ESSENCE
Independent Distributor