Modere Liquid Biocell® Life Review: Take Your Beauty and Strength in Your Hands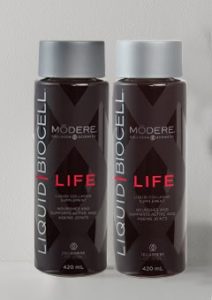 In today's hustle-bustle world of work, we can be left with very little time to take care of ourselves and our health. We need as many benefits from the products we use as we can get, more than thinking about getting a bang for your buck. Today's review of Modere Liquid Biocell® Life will dive into its ingredients and what this liquid miracle can do for you in living a healthier life. 
What is Modere Liquid Biocell® Life?
Modere Liquid Biocell® Life is a unique and innovative liquid-based collagen supplement. It's made with Modere's patented Collagen/HA Matrix® Technology and thirteen different superfoods, plus resveratrol ingredients to create a potent combination that targets skin, tissue, cartilage, and muscles to help ensure an all-around fitness for your body. It is an all-natural dietary supplement, with a natural fruit flavor that makes it a tasty treat as well — helping not just the body but satisfying your cravings as well.
The Collagen/HA Matrix® Technology itself is remarkable enough to have seven U.S. and international patents, with Type II collagen being mixed with Liquid Biocell® and other ingredients to create the powerful mixture that the Modere Liquid Biocell® Life has.
How Can Modere Liquid Biocell® Life Change Your Life?
Let's find out the many advantageous results and benefits that this product can bring into your life.
No other supplements can take care of your skin better than Modere Liquid Biocell® Life. Not only does the product help reduce skin dryness, but it also aids and promotes firmness, elasticity, and collagen content. Your skin will look and feel youthful with proper everyday use, giving you vibrant beauty and a radiant glow.
Stronger Bones and Muscles
Feel the increased strength not just in your joints and cartilage, but in your muscles as well, as daily usage of Modere Liquid Biocell® Life can help improve the mobility of your joints as well as support the improvement of muscle health. This will help you feel fitter and maximize all your workout routines, making your body closer to unlocking its full potential.
Our cardiovascular system is one of the most important biological systems in our body. It affects every cell, tissue, and organ by efficiently delivering nutrients and eliminating cell waste. The Modere Liquid Biocell® Life supports your heart by enriching it with precious collagen so that it can effectively pump blood at the center of our bodies.
It's Time To Help Your Health By Getting Modere Liquid Biocell® Life
Modere's products are always world-class and top-notch, but if you have to start somewhere, grab the Modere Liquid Biocell® Life, a renowned nutritional supplement that assists in improving the body and results in making life worth living for again.
Don't wait for a miracle: take your beauty and strength in your own hands and get your own Modere Liquid Biocell® Life now. Visit this website to get a discount and change your life today! 
It is tiring to live with dry skin. It makes your face look bland, sticky, and unhealthy, and generally, dry skin can lead to small diseases like the flu and such because of how weak the skin cells are. Mere baths and moisturizers are not enough. You need something...
read more
Modere Carb Blocker is a great supplement to have if you want to regulate the presence of carbohydrates in your system. But even if you're relying on it to delay the digestion and absorption of carbs, that doesn't excuse you from doing your own part. For starters, you...
read more