Modere Logiq™ Creamer Review: Sustained Brain Fuel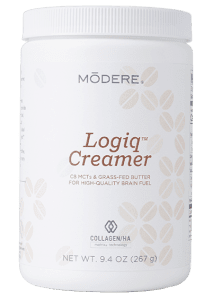 There is something so relaxing about holding a cup of warm beverage in the morning before you face the rest of the day. As we grow older, we learn to find joy in brewing a cup of coffee, sipping a full-leaf tea, or maybe heating a decadent glass of cocoa. To add more fun to this warm experience, we try to sweeten things up by adding sugar and soften things up by putting creamer.
Seeing a cup of any beverage with a visible splash of creamer is such a pleasant sight. You can deduce that whoever owns that cup has not been defeated by the bitterness of life yet. There was a study conducted by a psychology professor at California University, Ramani Durvasula. In this study, he found that people who order latte coffee or those who add milk to their coffee are those that tend to go out of their way to help others.
This study makes using creamers all the more appealing, but we have to be wary of what's in our beverage before we pour the silky temptations in our cup.
Some of the non-dairy creamers in the market contain the most surprising ingredients available such as:
Emulsifiers

– These thickening agents can cause digestive problems and inflammations. 

Preservatives

–

Sodium stearoyl lactylate and dipotassium phosphate are two of the most common preservatives that are used to inhibit the growth of molds in creamers. These mold inhibitors are responsible for the creamers longer shelf life. 

Artificial Flavors

– These fake flavors involve hundreds of health risks.

Partially Hydrogenated Oils

– These are more commonly known as trans fats- highly processed fats that can raise the level of bad cholesterol and increase your chances of getting a heart disease.

Artificial Sweeteners

– Creamers use fake sweeteners to dial down their sugar/ calorie content, but these fake sweeteners can still trigger your blood sugar to rise and can even lead to Type 2 Diabetes.
Luckily for the creamer fanatics, there are plenty of safer and healthier creamer options that are currently available in the market. One of the best and well-received creamers today is the Modere Logiq™ Creamer.
Modere Logiq™ Creamer is a blessing to the keto-diet followers and the health-conscious alike and these benefits make this creamer a gold-mine:
Modere Logiq™ Creamer Benefits:
It showcases a blend of C8 medium-chain triglycerides and grass-fed butter to provide quick,

sustained brain fuel

. 

It  provides rapid, high-quality energy

It supports healthy skin, hair, nails, and joints with the presence of the award-winning Liquid BioCell® collagen

It has no added sugar 

It is keto-friendly, non-GMO, and gluten-free
Modere Logiq™ Creamer Key Ingredients
C8 MCTs (medium-chain triglycerides)

– This ingredient

may have a beneficial impact on weight management.

Grass-fed butter

– This high-quality butter is rich in CLA which has positive effects on

cardiovascular disease

s

, cancer, chronic

inflammation

, and diminished immune response; it can also contribute to fat loss.

Liquid BioCell®

–

A component that is exclusive to Modere products, this next generation of naturally derived, type-II collagen is intended to provide nutritional benefits to the joints and skin 
Below are some of the positive reviews that prove Modere Logiq™ Creamer is the best creamer you can ever add to your hot beverage:
 "I put this stuff in my morning keto coffee, along with 1 tbs coconut oil, a 1/4 tsp of 100% cocoa, a few drops of stevia. Then blend. Ooo, it's so good." 

– D. Friedman
"The creamer makes the coffee taste very rich and creamy and it's actually beneficial for you to drink. Modere is definitely a company to keep an eye on, they have created some amazing "LiveClean" products that are spreading like crazy because they actually work and their creamer is spot on."

– Amanda112
To achieve best results, pair your Modere Logiq™ Creamer with its premium beverage-buddy,  Modere Logiq™ withTetraBlend™ Coffee. Visit Modere website to discover Modere's modern approach to wellness!
To increase your profit as a Modere independent distributor or social marketer, you should always aim to give the best products that Modere can offer to  your customers. Best-selling Modere supplements that you should deliver to your potential customers....
read more
Discover the beauty serum that can help you in achieving beauty from the inside and slowing the effects of skin aging. Here's why you should include Modere CellProof Serum in your skincare routine. What is Modere CellProof Serum? Modere CellProof Serum is...
read more
WELLNESS ESSENCE
Independent Distributor