Introducing: Modere's Comprehensive Weight Management System 
M3 is the first comprehensive weight management system of Modere, inspired by a Mediterranean lifestyle. This type of lifestyle makes use of a "balanced" approach and simplifies the program for the user.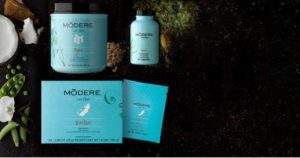 Modere M3 is a supplement composed of three products, namely Burn (a morning thermogenic). Sustain (your afternoon protein shake) and Sync (your evening dose of fiber). M3 also has several product combinations to choose from such as M3 + Trim Chocolate, M3 + Trim Coconut Lime, M3 + Trim Lemon, M3 + Trim Vanilla and M3 + Vital. Chocolate lovers need not to worry because M3 also has a line may be of Chocolate Bliss products that may be combined with Trim Coconut Lime, Trim Lemon, Trim Vanilla or Vital.
Modere promised to abide by its Clean Label and Live Clean philosophy by using high-quality, innovative and safe ingredients, as well as packaging that are health and environment-friendly. This means that they have never used chemicals nor compounds as part of their ingredients across all its product lines, for 30 years. Modere's products are NSF-certified, EWG VERIFIED™ and gray water safe.
The Benefits of Shifting to a Mediterranean Diet
Research suggests that a traditional Mediterranean diet is more effective as compared to a standard, low-fat diet. In fact, those who follow the Mediterranean diet noticeably achieved 52% weight loss!
In 2008, The New England Journal of Medicine conducted a 2-year study comparing participants using the Mediterranean diet and participants using the low-fat diet. Results showed that participants under the Mediterranean diet lost an average of 9.7 pounds, as compared to participants under the low-fat diet, losing only 6.3 pounds.  
Customer Reviews
A customer who purchased Modere M3 shared its benefits and considered M3 as the "best weight loss system." A customer's review on Burn indicated, "it totally gets me energized" while another customer's review on Sync and Sustain focused on the fact that "it tastes great."
Other customer reviews have proven that M3 products make you "feel full and curb cravings." In terms of weight loss, customer reviews also shared its effects. One customer has actually lost 6 to 10 pounds in a month, while another customer lost 20 pounds! 
Make Modere M3 part of your Lifestyle
Remember that discipline is key to maintaining a healthy lifestyle. It is important to consult your physician prior to engaging in any weight loss or exercise program. The results vary on factors such as the amount of exercise and motivation to stick to a daily routine or habit. For one, it is important to cut down on sugary drinks, refined flour, white rice, sugar and fried foods. Drinking 5, 12-oz glasses of water and walking 7,500 steps daily will definitely help you achieve your desired healthy weight. 
Commit yourselves to Modere M3 together with a renewed healthy lifestyle to arrive at successful weight loss results! Visit our website today for exclusive promotions and discounts.
In achieving your fitness goals, it is essential to have a nutritional supplement that can support your active lifestyle. There are a lot of products in the market that can help a little when it comes to supporting active lifestyle, but there here are the...
read more
Experience a new way of healthy weight management with the Modere Logiq™ + Trim Collection, an extraordinary health plan designed for the people with active lifestyles. Here are the products inside Modere Logiq™ + Trim Collection that you surely never...
read more
WELLNESS ESSENCE
Independent Distributor