Modere Probiotic Review: The Revolutionary Gut Friend That You Need!
If you haven't taken a step toward taking better care of your gut, then you should really consider putting it at the top priority and here's why: Your gut health- as much as it affects your immune, cardiovascular, and digestive systems- plays a huge role in your mental health at the same time. 
A group of scientists found out that a huge group of microfauna in the intestines can affect our state of mind. According to Sven Pettersson of the Karolinska Institute in Stockholm, gut microbes take control of leakage through the intestinal lining and the blood-brain barrier to help protect the brain from potentially harmful chemicals. Apart from this, many studies are being conducted to prove the significance of gut health in several mental health problems such as depression, autism, and anxiety, to name a few.
Although these studies have a long way to go, you cannot risk it and just let your gut health slide because if this is true, it can lead to poor mental health and as a result, it can further lead us to make poor health decisions, which will then affect our overall wellness. 
One effective way to protect our gut health is to take probiotics. Probiotics are live microorganisms that provide huge benefits not just for the gastrointestinal tract but also for the brain and body. 
A Good Bacteria's Mission:
Help normalize your bowel movement especially if you're suffering from diarrhea 

Help keep your heart healthy 

Help calm down certain allergies

Help strengthen the immune system

Help you lose weight or belly fat
Probiotics are available in many forms like food and flavored drinks but sometimes, they do not contain enough living organisms to respond to your body's needs. Taking supplements is still the best way to acquire the perfect dosage of good bacteria. The problem is, supplements usually come in capsules but they can be a tad boring for regular consumption. The good news is, you can take your probiotic supplement in a fun and exciting way!
Modere Probiotic is not your ordinary probiotic because it has revolutionized what a supplement should look like and consist of. For starters, its highly-advanced encapsulation technology ensures more good bacteria reach their target destination. In addition, it provides a generous amount of active cells at 5 million to ensure that the needs for the encapsulation technology are being met.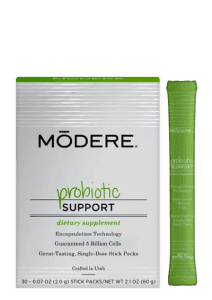 Modere Probiotic Benefits
Balances intestinal microflora for maintenance of good health* 

Encapsulation technology ensures more good bacteria reach their target intact* 

Helps relieve discomfort caused by imbalanced gut flora 

Portable single-serve stick packs are easy to use on the go 
What's great about Modere Probiotic is how it sticks to its modern approach to wellness not just with its use of encapsulation technology but how it strives to set itself apart from other supplements that usually come in capsules. 
Modere Probiotic comes in powder form with a refreshing cucumber flavor to make probiotics enjoyable. You can add a dash of your favorite citrus and ice cubes to create a fresh and cool drink! Don't worry about artificial flavors and sugars because Modere Probiotic is sugar-free, non-GMO, gluten-free, and vegetarian. Only the best all-natural ingredients to accompany the wondrous effects of its probiotic blend.
Modere Probiotic Key Ingredients:
Lactobacillus rhamnosus, Lactobacillus acidophillus, Bifidobacterium breve, Bifidobacterium animalis ssp.  
Below are some of the positive reviews left by the loyal users of Modere Probiotic:
This is the best probiotic I've ever had. Very gentle on the tummy and aids digestion along with fixing gut issues. -Nancy Goel
One of my favorite Modere products. Helps me to sleep all whilst working to keep my gut healthy – Michelle Cioffi
This product is amazing. I can feel myself coming alive after taking. I am still undergoing chemo. Thank you. – Janelle Coleman
Love this product! Easy to take, I mix it with some water then add a dash of orange juice. Can't even tell it's in there! This product has given me some relief from my endometriosis! Will continue to buy!  – August
Every second is important so you better start taking good care of your gut before it's too late. Give Modere Probiotic a go and see how your health will improve holistically.
Visit Modere website to see what Modere has in store for your wellness!
To increase your profit as a Modere independent distributor or social marketer, you should always aim to give the best products that Modere can offer to  your customers. Best-selling Modere supplements that you should deliver to your potential customers....
read more
Discover the beauty serum that can help you in achieving beauty from the inside and slowing the effects of skin aging. Here's why you should include Modere CellProof Serum in your skincare routine. What is Modere CellProof Serum? Modere CellProof Serum is...
read more
WELLNESS ESSENCE
Independent Distributor