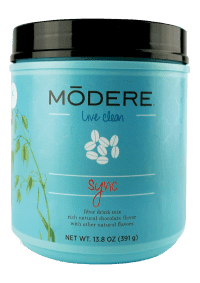 Curbing your appetite is never an easy task. Unfortunately, it's the reason you'll find someone trying out multiple weight management supplements, only to end up realizing no significant outcome. Does that sound familiar?
If this sounds like you, try Modere Sync weight loss supplement.
Read on as we delve into a complete Modere Sync review. You'll learn more about this product so you can decide whether it's what you need to curb your late-night cravings and lose weight.
What Is Modere Sync?
Modere Sync is a drink mix designed to optimize digestion and curb late-night cravings. This explains why people often take it in the evening.
The delicious, chocolate-flavored gluten-free shake consists of a unique blend of plant fibers. Modere bases the feeling of fullness on oat bran, a primary ingredient. It also contains fructooligosaccharides and inulin, prebiotic fibers that are good for the gut as they boost the growth of good bacteria.
Taking Modere Sync will give you a full-body transformation helping you curb your appetite by making you feel full and reduce cholesterol levels.
The fact that Modere is a well-known multi-level marketing company with a solid reputation should eliminate any doubts or worries you have about this product. Nevertheless, read our complete review before drawing any conclusions.
Is Modere Sync Safe?
Just like other supplements in this category, Modere Sync is safe for human consumption. However, in case of any adverse side effects after using this product, which is very rare, consider discontinuing for a while.
You may also need to talk to your doctor or nutritionist before you start using this product. They'll help you know what negative effects to watch out for.
Modere Sync Ingredients
Modere Sync comes in a pretty simple and easy-to-use form. It's a drink mix in liquid form, making it easier to alter your dose if you need to. Most people prefer to start slow and increase the quantity with time.
The product consists primarily of whole oat bran, apple pectin, and gum acacia, but there are other ingredients in this product, some of which are for flavoring purposes.
Modere Sync contains fiber, which helps promote digestion, purifying the digestive tract, and promoting regularity. In addition, the drink also contains prebiotics, including fructooligosaccharides and inulin, which help support gut health.
However, Sync has one shortcoming. It only contains 3 grams of fiber per serving, which is too low for a fiber supplement and lowers the potential benefits.
Let's take a look at each of the ingredients.
Whole Oat Bran
Oat bran is a piece of the oat grain that is the outer layer of the oat groat kernel. You'll find the bran just beneath the inedible exterior of the grain.
The oat bran is high in beta-glucan, which is a powerful soluble fiber type. In addition, whole oat bran will provide you with low amounts of folate, calcium, vitamin B6, and niacin.
What's special about this drink is although oat bran can get contaminated during processing, or even during the growing process, the whole oat grain contained in Modere Sync is vegan and gluten-free.
In addition, polyphenol molecules in the oat bran act as antioxidants. Antioxidants offer protection to your body from potentially toxic molecules known as free radicals. High amounts of radicals can damage the cells, resulting in chronic diseases.
Other antioxidants present include phytic acid, ferulic acid, and avenanthramides, which reduce inflammation, lower blood pressure levels. Also, avenanthramides are known to have anti-cancer properties.
The health benefits of whole oat grain include:
Gut health benefits, including reducing constipation and providing relief from symptoms linked to certain diseases
Aids in weight loss
It may help control blood sugar levels
May reduce heart disease risk factors
Supports healthy bowels
May provide relief for IBD (Inflammatory Bowel Disease)
Apple Pectin
Apple pectin is a type of soluble fiber found naturally in apples. It's a vital component of Modere Sync as it's known to have many dietary benefits.
Many people believe it helps improve digestive health and treat or prevent metabolic and gastrointestinal disorders. When pectin mixes with water in the digestive tract, it forms a gel-like substance that may ease bowel movement.
Does pectin come with any health benefits? Yes, it does! Some of the health benefits you'll enjoy from the pectin present in Modere Sync include:
It may help lower cholesterol by binding to bile in the intestines.
It may help reduce blood sugar levels by binding with carbohydrates in the intestine and stomach.
It provides relief from irritable bowel syndrome (IBS).
Helps reduce constipation
Gum Acacia
Gum acacia is a water-soluble dietary fiber derived from the acacia tree. This component of Modere Sync works to make you feel full, helping you avoid eating earlier than you otherwise would.
Additionally, acacia is crucial in helping alleviate high cholesterol, irritable bowel syndrome, diabetes, and other conditions. Therefore, using it will likely lead to reduced cholesterol levels and weight loss.
Other Ingredients
The other ingredients found in Modere Sync include:
Cocoa
Natural flavors
Organic pea fiber
Salt
Steviol glycosides
What Are Some Side Effects of Modere Sync Ingredients?
Beneficial as this drink is, resist the urge to add a large amount to your diet as it will amount to excessive consumption, which may cause digestive stress. You'll experience symptoms such as:
Constipation
Diarrhea
Abdominal discomfort
Flatulence
Gas
Nausea
Bloating
What Do Real People Say About Modere Sync?
It helps me feel whole! It has a wonderful chocolate flavor that you can mix with both water and almond milk. -April Whitlock.
I never felt full after a meal, always craving something more. Sync stopped that problem immediately! It trained me to eat less. Great as a dessert also. – Susan Eby
I am pleased with this product. I mix this up in a shaker with water and drink it before sleeping at night. Positive results the following day! – Cynthia Miller.
Mixed with milk, it tastes just like regular chocolate milk- so good! It filled me up, so I had no late-night cravings. I love this stuff! – Tabatha Wiggins