Choose Which Modere Weight Management Set Is Best For Your Fitness Goals
Modere's philosophy is simple and straightforward: To offer clean lifestyle alternatives that will fit today's modern landscape. For 30 years, Modere has been coming up with innovative products that set new standards for safer and cleaner living. These products have it all- straying away from harmful ingredients. This is especially true when it comes to food and dietary needs. No harmful ingredient will ever sneak its way into a bottle or a jar or a packet of Modere product. 
If you are looking for reliable weight loss products, discovering Modere products might just be the best thing that happens to you this year. Modere offers a variety of products that you can mix and match to find the perfect combination that strikes your weight loss target at its center. 
Here is a guide to know which Modere Weight Management Product Set is for you!
For Weight Management- Modere M3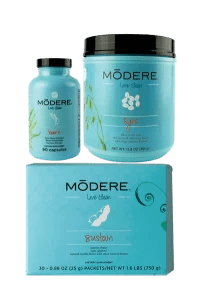 The Mediterranean diet is considered to be one of the healthiest dietary patterns for not only does it aid in weight loss but it also promotes a healthy heart. Research suggests that people who follow the Mediterranean diet lose 52% more weight versus those on a standard low-fat diet. 
Modere M3 is a comprehensive weight management system that is inspired by the Mediterranean lifestyle. This lifestyle will regulate and correct your eating habit.  The set includes the following products:
Sync

– It optimizes digestion and lessens late-night cravings in one delicious, gluten-free shake with a unique blend of plant fibers.

Burn

– It is a scientifically formulated thermogenic that increases your metabolism with a powerful blend of plant-derived, fat-burning ingredients.

Sustain

–  It helps curb your appetite and caloric intake with ultra-filtered, low-lactose whey protein.
For Leaner Body- Modere Lean Body System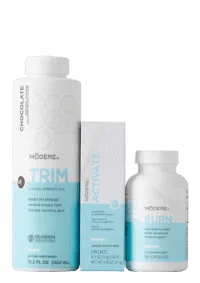 The Modere Lean Body System is best for people who are serious about muscle-building. It is an exclusive collection of scientifically designed products to help you burn fat, lose inches, and promote lean body composition for overall better health and fitness. The collection includes the following products:
Trim

– It contains two leading technologies to accelerate fat reduction, improve muscle tone, and restore youthful skin for a sculpted, lean body. This is a must-try product to avoid awkward weight-loss sagging and/or wrinkling. 

Burn

– It is a science-backed thermogenic that increases your metabolism with a powerful blend of plant-derived, fat-burning ingredients that activate your metabolism, reduce cravings, and shift your body into fat-burning mode.

Activate

– This is a 3-day detox that helps ignite digestive energy, making the perfect complement to a fat loss regimen.
*The Lean Body System is available in 4 different flavors: Chocolate, coconut lime, lemon, and vanilla 
For Improved Strength and Performance- Modere Fitness Combo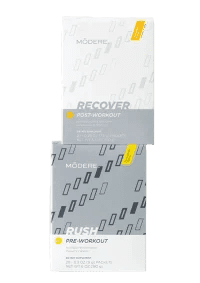 The Modere Fitness Combo is based on the science of exercise psychology and physiology. It consists of two products that work hand-in-hand to bust through the common barriers to staying active. The collection includes the following products:
Rush

– It is a science-driven pre-workout supplement that provides clean energy and optimizes your athletic performance, protects your muscles during exercise, and helps you push harder.

Recover

– It is a unique post-workout supplement that provides a blend of minerals, phytonutrients, and essential electrolytes to reduce muscle soreness, support lean muscle formation, and help you stay hydrated. It helps you feel invigorated to do more even after going through an intense workout.
You cannot go wrong with these top picks for Modere Weight Management Products. Modere took the necessary steps to come up with these collections so that you would not have to stress over which products to purchase to achieve the best results. By purchasing in sets, you will also get to save more money as they are usually cheaper compared to individual products. 
Then afterwards, when you feel that you are ready for an upgrade, you can simply mix and match or add more products to your existing collection. You can find these additions and more when you visit Modere website.
It is tiring to live with dry skin. It makes your face look bland, sticky, and unhealthy, and generally, dry skin can lead to small diseases like the flu and such because of how weak the skin cells are. Mere baths and moisturizers are not enough. You need something...
read more
Modere Carb Blocker is a great supplement to have if you want to regulate the presence of carbohydrates in your system. But even if you're relying on it to delay the digestion and absorption of carbs, that doesn't excuse you from doing your own part. For starters, you...
read more