Elevate Your Skincare Routine with Modere Products
Your skincare routine might be great, but does it have the additional benefits and protection that Modere Personal Care products offer?
Discover the benefits and secrets of Modere's remarkable skincare products to see the advantages of Modere skin health.
Modere Antioxidant Gel
Modere Antioxidant Gel is a powerful antioxidant serum that minimizes the effects of natural factors, cosmetics, and harsh chemicals on the skin. It is filled with vitamins that restore the skin's natural glow, protects the skin from oxidation, and moisturizes the skin by penetrating the skin's surface layers.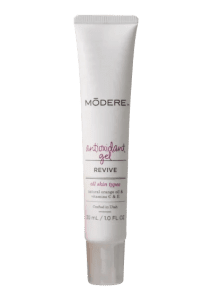 Notable effects of Modere Antioxidant Gel:
Reduces wrinkles

Restores natural glow

Provides antioxidant protection

Protects the skin from natural factors, pollution, and harmful chemicals
Key ingredients of Modere Antioxidant Gel:
It contains an abundant amount of Vitamin E, potassium, lecithin, and many other nutrients that are known to nourish and moisturize your skin. 
It can prevent inflammation, moisturize the skin, prevent skin diseases like eczema, and improve the skin's overall condition.
It is known to reduce inflammation, treat burns and acne, and moisturize the skin.
This ingredient can restore the skin's excellent condition and enhance its appearance by reducing the skin's surface tension.
Modere Exfoliant
Modere Exfoliant is a mild exfoliator that gently eliminates dead skin cells and impurities to make the skin smoother and more radiant.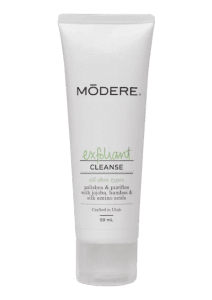 Notable effects of Modere Exfoliant:
Cleans the skin without abrasive rubbing or harsh chemicals

Nurtures the skin with vitamins from tonic plants

Enhances skin complexion

Helps in refining skin texture and controlling oiliness
Key ingredients of Modere Exfoliant
It is known for its remarkable similarity to the natural oils that the skin produces and its oxidation-stabilizing properties.
Bambusa Arundinacea Stem Extract
This ingredient can exfoliate the skin, remove impurities, and improve the skin's thickness.
 Sodium Lauroyl Silk Amino Acids
These amino acids are known to improve the radiance of the skin and hair.
Hydrolyzed Opuntia Ficus-Indica Flower Extract
This flower extract is widely used in protecting and moisturizing the skin.
It is an essential vitamin that nourishes the skin and protects it from the effects of aging.
Modere CellProof Moisturizer
Modere CellProof Moisturizer nourishes and protects the skin with the patented BioCell Collagen® CG, which is derived from antioxidant astaxanthin and a blend of essential nutrients that hydrates the skin intensively.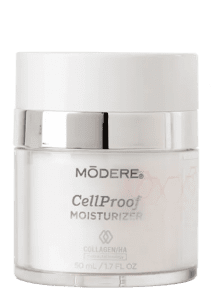 Benefits of Modere CellProof Moisturizer:
Promotes vibrant, youthful-looking skin 

Hydrates the skin

Improves skin texture

Reduces wrinkles

Evens skin tone

Improves skin elasticity

Protects skin from the effects of aging and harmful chemicals
Key ingredients of Modere CellProof Moisturizer
It nourishes the skin by providing bio-optimized collagen peptides, chondroitin sulfate, and hyaluronic acid.
It is an antioxidant that repairs and protects the skin's dermal layers from free radicals.
It is a potent essential vitamin that neutralizes free radicals, aids the skin's regeneration process, and repairs damaged skin cells.
It contains a high concentration of fatty acids and vitamins that helps in reducing inflammation, promoting better skin tone, and softening the skin.
Reinforce your skincare routine by including Modere skincare products, which you can avail on Modere.
It is tiring to live with dry skin. It makes your face look bland, sticky, and unhealthy, and generally, dry skin can lead to small diseases like the flu and such because of how weak the skin cells are. Mere baths and moisturizers are not enough. You need something...
read more
Modere Carb Blocker is a great supplement to have if you want to regulate the presence of carbohydrates in your system. But even if you're relying on it to delay the digestion and absorption of carbs, that doesn't excuse you from doing your own part. For starters, you...
read more