Top 5 Modere Products to Buy
Modere is a health and wellness company that combines cutting-edge technology and natural ingredients to deliver results. Modere offers skincare, personal products, and nutritional supplements. The products are promising and I have my top 5 picks which we are going to talk about today! 
Top 5 Modere Products
1. Modere Carb Blocker

Let's admit it, despite our determination to achieve a healthy weight, there comes a time when we give into temptation. I'm talking about that blueberry cheesecake in the fridge! Sadly, excess carbs are one of the culprits for weight gain. 
You don't have to feel guilty when you indulge in that extra treat anymore! Modere Carb Blocker is your partner in maintaining a healthy weight. It delays carb absorption to reduce your calorie intake. Each capsule helps lower the glycemic index or the value of carbohydrates in food. I take Carb Blocker every day before meals to stay fit. 
2. Modere Vital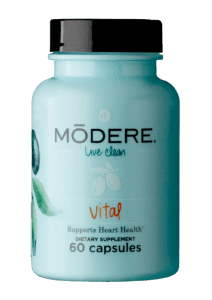 The mediterranean diet is considered one of the healthiest lifestyles and is popular in Greece, France, Italy, and Portugal. Each serving contains fresh fruits and vegetables, oils, and healthy fat. It's not surprising that it can lower cholesterol, reduce the risk of cardiovascular disease, and prevent obesity.
With Modere Vital, you get all those benefits every day! The key ingredients of Modere Vital are resveratrol, lycopene and olive pulp – the main components of a Mediterranean diet. It assists the immune system in fighting free radical damage to keep you healthy and youthful! 
3. Fitness Combo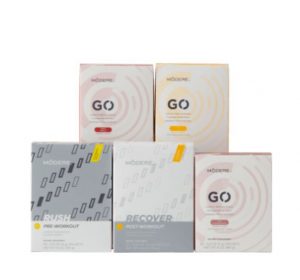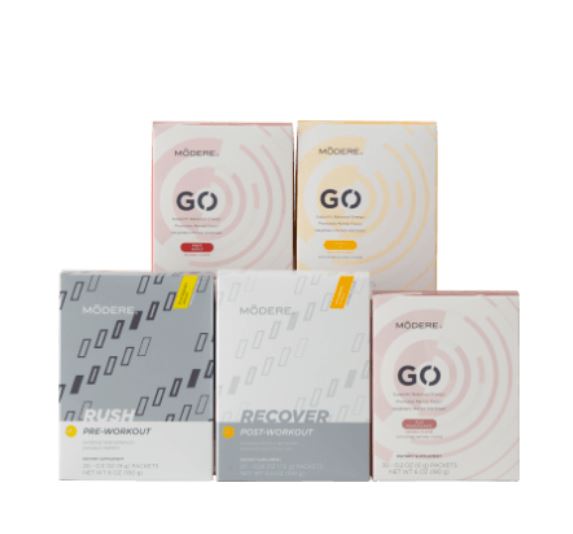 Fitness Combo consists of Rush and Recover –   fitness supplements designed to sustain an intense workout. 
Rush is a healthy drink with Calcium HMB that boosts energy and protects muscles during exercise. Recover is a post-workout drink that replenishes electrolytes and reduces muscle soreness and supports lean muscle formation.Make the most of your workouts with our recommended Fitness Combo and feel the difference!
4. Modere M3
Modere M3 is a weight management program that requires a change of lifestyle. It is based on a meticulous Mediterranean diet, a combination of healthy and low-calorie food. It aims to replace unhealthy meals with a dense formula to satisfy hunger. 
A friend of mine had been struggling with excess fat for many years. He'd lose and gain weight repeatedly! The real problem was his eating habits. He'd deprive himself of food but indulge in it later. I recommended Modere M3 to him. With the combination of regular exercise, he lost 6 pounds within two weeks. 
5. Trim – Chocolate Singles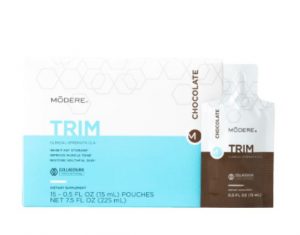 If you have a sweet-tooth like me and find chocolates hard to resist – I have great news for you! We can now indulge in Modere Trim – Chocolate Singles

Balances metabolism

Hinders fat entry into the cells 

Restores youthful skin due to Collagen/HA Matrix technology that supports connective tissue. 

Sugar-free! 
It's my favorite on-the-go treat! With the many guilt-free benefits, there's more of a reason to eat!
If you want to learn more about Modere products, kindly subscribe to our newsletter. My top 5 picks are available on Wellness Essence, the leading distributor of Modere products. Visit our website now and get a chance to earn discounts on your first purchase!  
In achieving your fitness goals, it is essential to have a nutritional supplement that can support your active lifestyle. There are a lot of products in the market that can help a little when it comes to supporting active lifestyle, but there here are the...
read more
Experience a new way of healthy weight management with the Modere Logiq™ + Trim Collection, an extraordinary health plan designed for the people with active lifestyles. Here are the products inside Modere Logiq™ + Trim Collection that you surely never...
read more
WELLNESS ESSENCE
Independent Distributor